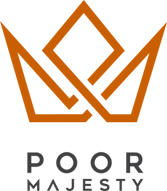 Poor Majesty is an emcee, musician, composer, and activist from Sacramento, CA. His music leans towards social issues and social change. He originally found fame in the Northern California Tribe of Levi.
Poor Majesty got his start opening for Skee-Lo in Marysville, CA in 1998. Since then he has opened for a multitude of a major acts including Nas, Zion I, Blacksheep, Dead Prez, Ana Tijoux, Vast Aire, and GZA of Wu-Tang Clan. His live show is typically fierce, with a fast single-timed rhyming style. He often includes the audience in his performances.
In 2017, Poor Majesty released Good God Almighty, which included the singles Abracadabra, Love and Hip Hop, Sonnet87 and Who is Poor? Poor often mixes sounds of soul, African cultures and jazz into his productions.
He was signed to Sacramento's 5ohm Records in the summer of 2018, and is currently working on a new record to be released in the spring of 2019.